Your home's doors are more than just entry points; they're a statement of style, security, and warmth. At The Exterior Zone, we specialize in crafting doors that are not just functional but are a true reflection of your taste and lifestyle.
Doors are more than mere entryways; they're essential expressions of your home's character, integral to both safety and aesthetics. At The Exterior Zone, we understand that your doors should always be in their best shape, exuding style while providing robust protection.
Focusing on this essential feature, we offer enhancements that can transform the very focal point of your home. By changing the color, style, or even the type of door, we raise both interest and security levels. After all, eyes are naturally drawn to this feature, and a thoughtfully selected door can leave a lasting impression on visitors.
Unleashing Your Personality Through Your Front Door: Contrary to common misconceptions, your front door's design is not limited to one or two styles. With our wide array of styles, colors, shapes, and sizes, you can truly personalize your home's entryway. Want to complement the architectural style of your home? Or perhaps you wish to make a bold statement that stands out from the crowd? With our passionate pursuit of excellence, we'll help you find the perfect door to enhance your home's personality.
Security and Protection with Backdoors and Sliding Doors: But we don't stop at aesthetics. Our backdoors and sliding doors are designed not only to be pleasing to the eye but to offer top-notch protection against intruders, water damage, and the elements. With The Exterior Zone's commitment to quality and detail, you can rest assured that every door we provide is a gateway to safety, style, and satisfaction.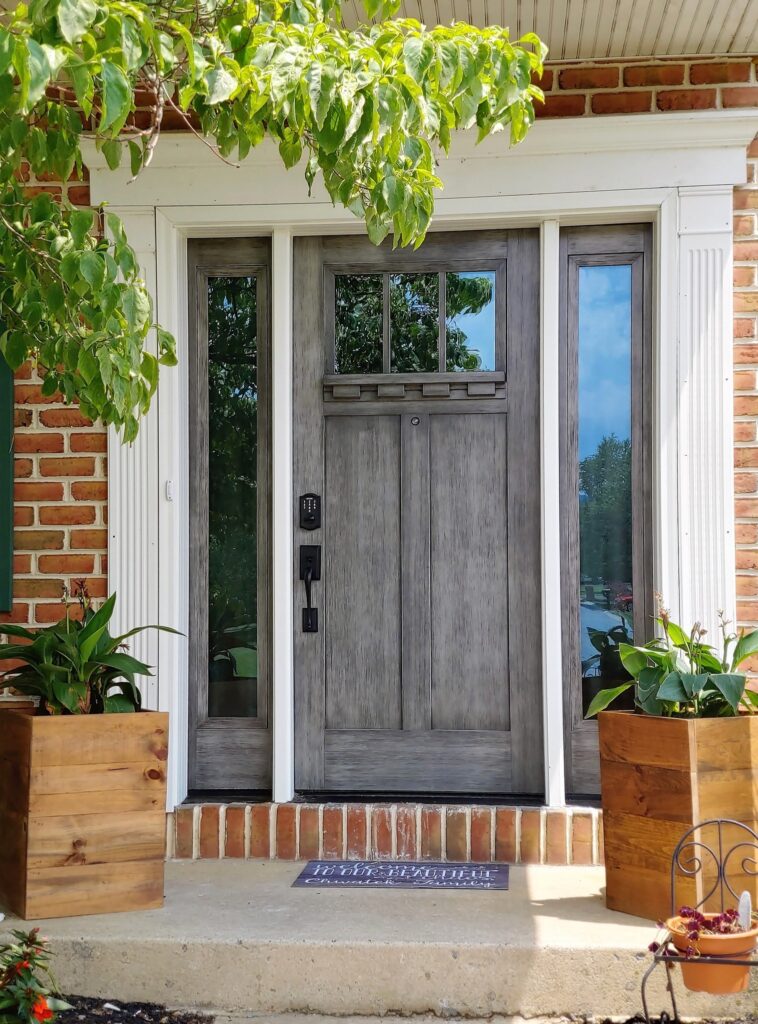 Strength, Style, and Security
The Dual Role of the Front Door: Inviting and Protecting. A front door is a gateway that welcomes guests while guarding against unwelcome intruders. At The Exterior Zone, we understand that a quality door doesn't just catch the eye; it also safeguards your family and possessions. While an old, flimsy door can unfortunately invite trouble, a robust and elegant door from our collection acts as a powerful deterrent, reinforcing safety with its sturdy appearance.
Tailored Choices for Your Home: We know that selecting the perfect door can be a daunting task, but we're here to simplify it for you. Our team works hand-in-hand with you, offering a 3D visual of your home with various door options, so you can truly envision the final result. Your vision guides our efforts, and we take the time to help you understand the materials, styles, and the entire installation process during our one-on-one vision creation consultation.
Expert Installation with a Focus on Longevity: But it's not just about aesthetics and choice; proper installation is vital for your door's longevity and the overall protection of your home. That's where our passion for excellence shines. By choosing The Exterior Zone, a reputable company with a proven track record, you're not just adding sparkle to your home; you're investing in a future of safety, beauty, and peace of mind. Trust us to turn your dream door into a reality, reflecting both strength and style.
At The Exterior Zone, we're more than just a team – we're a family united by our passion for excellence and our commitment to integrity. Our mission is to create a positive work environment that fosters collaboration and innovation, allowing us to provide you with customized, high-quality services. Sustainability is at our core, driving us to craft beautiful, enduring structures that reflect our professionalism and respect for your home. Through transparent communication and expert guidance, we take the complexity out of exterior renovation projects. Your peace of mind is our priority, and we strive to be your all-in-one solution for every exterior need. Trust in our vision, and we'll make your vision a reality.
Our clients have trusted us to transform their entryways with meticulous attention to detail and a commitment to excellence. From selecting the perfect style to professional installation, our satisfied customers have experienced the passion we put into every door project. But don't just take our word for it – read on to discover what they have to say about their brand-new doors and the service they received.
The Exterior Zone is responsible, courteous, and timely. They were very passionate about their work and truly cared about satisfying my needs. The company went above and beyond our expectations. We were more than satisfied with the work completed on our home.
When refinishing my deck, I pulled back some outside baseboard and found a lot of water damage going into the house by a sliding door. I spoke with The Exterior Zone on the phone and sent some pictures. They came out twice to ensure I understood the job requirements and detailed how the job would proceed. The company sat with me to explore options for a replacement door, and the final product is exceptional. I highly recommend The Exterior Zone
The team replaced and installed a new garage entry door, and it looks great! As a bonus, they cleaned my gutters. The team is extremely professional and trustworthy.
A door is more than just a gateway to your home; it's a statement of style, a symbol of security, and a mark of quality. At The Exterior Zone, we understand the unique role that your door plays, and we're committed to enhancing it according to your vision.
Contact us today to begin your journey towards a beautiful, durable door. Whether you're looking to improve your existing door or replace it altogether, we're here to provide an extraordinary experience that aligns with your aspirations.
Simply fill out the form below, and your dedicated account manager will reach out to you. We'll ask a few questions to understand your specific needs, including your name, email, phone number, and address, so we can tailor our services just for you.