Gutters are more than a functional necessity; they're an essential part of your home's aesthetic and structural well-being. Crafted with precision and installed with care, our gutter systems guide rainwater away, protecting your property while enhancing its appearance. Trust in our expertise to ensure a seamless blend of beauty and function, keeping your home dry and dignified. Explore our range of services to find the perfect solution for your exterior.
Your Home's Silent Guardians
Gutters are more than mere channels on your home's exterior; they are a fundamental part of maintaining the structure's integrity. When gutters become clogged, the domino effect of problems that follows can be both destructive and costly. Water trailing down the sides can rot wood, ruin decks, and flood basements, leading to expensive repairs. Mold growth is more than unsightly – it poses health hazards to your loved ones. And in regions like Michigan, where winters are relentless, stagnant water can seriously damage your roof, threatening the safety and stability of your home. Properly designed and maintained gutter systems are thus essential. By avoiding blockages and ensuring free-flowing water drainage, we help safeguard your house. Regular cleaning and quality installation aren't just preventive measures; they are investments in peace of mind. Trust in our expertise to save you time, money, and anxiety, so you can concentrate on what truly counts – the warmth and well-being of your family.
When Function Meets Design
Every home is a unique expression of architectural creativity, and its gutter system must be tailored to fit its distinct design and structural needs. Gutters aren't one-size-fits-all; they must be crafted to accommodate various factors such as building structure, roof size, slope, and downspout dimensions.
Aluminum Gutters: A popular choice, aluminum spouts offer cost-effective protection against water flow damage. Typically ranging from 2'x3″ to 3'x4″ with 600 to 1200 square footage of water intake per spout, they provide solid protection to keep your home in prime condition.

Box Flanged Color Clad Steel: Often found in residential settings, these square downspouts offer a broader spout for more substantial drainage needs.

Rounded Aluminum and Copper Systems: For those who want a blend of elegance and efficiency, these modern and stylish gutter systems offer a chic look without compromising function.

Custom Solutions: If the standard options don't align with your vision, we're here to create a tailored solution that complements your home's aesthetics while safeguarding its structure. Whether you desire a hint of elegance with rounded aluminum or copper, or need a custom-fit for specific drainage needs, our experts can craft a system that amplifies your home's curb appeal and ensures comfort.
In essence, the gutter system isn't just about function; it's an extension of your home's personality and style. By understanding the unique properties of your home's design and offering personalized solutions, we help make your dwelling not just a house but a dream home.
Secure your beloved ones!
Gutter guards aren't just a protective feature; they're an investment in your home's longevity and safety. This simple addition can yield long-term benefits that extend far beyond mere aesthetics:
Savings on Cleaning: By reducing the need for bi-annual cleanings, gutter guards help you save money that can be invested in other home improvement tasks or even a family vacation.

Protection from Mold and Algae: Clogged gutters can lead to water retention, promoting mold and algae growth, which can be harmful to those with respiratory conditions. Mildew remediation alone can cost $2,500 for a small area. Guards act as a barrier to these issues, safeguarding your health and your wallet.

Pest Control: Without gutter guards, your home becomes a welcoming habitat for rodents, birds, and even snakes. These pests can wreak havoc on your property and even carry diseases like West Nile Virus from mosquito breeding grounds. Gutter guards prevent this infestation, saving you the cost and stress of professional pest control.

Fire Prevention: In regions prone to wildfires, such as Michigan with approximately 500 reported annually, gutter guards can be life-saving. By preventing the build-up of flammable debris, they minimize the risk of fire-related damages.

Weather Resilience: Regardless of your location and prevalent weather conditions, gutter guards add an extra layer of security to your gutter system, enabling you to focus on what matters most: keeping your family and home safe.
In conclusion, the upfront expense of installing gutter guards is more than justified by the multitude of benefits they provide. From health protection to fire prevention, they enhance your home's defense mechanisms and reduce unforeseen and costly emergencies, making them a wise investment for every homeowner.
Tailored Protection for Your Gutters
Your gutters play a critical role in safeguarding your home against the elements, and our ZoneCare protection packages are designed to give you peace of mind in their durability and quality. We offer three distinct levels of protection, tailored to fit your needs and budget:
Premium Zone Care: Our top-tier option provides maximum coverage, ensuring that your gutters remain in excellent condition, no matter what nature throws at them.

Deluxe Zone Care: This mid-level package offers substantial protection, balancing quality assurance with affordability.

Basic Zone Care: Our entry-level protection offers solid assurance against common gutter issues, providing a safety net for your home investment.
Each of these packages is carefully crafted to offer invaluable peace of mind, removing any doubt about the integrity of your gutters. With ZoneCare, you can rest easy knowing that your gutters, and by extension your home, are well-protected and will continue to function optimally for years to come. Choose the package that best suits your needs, and let us take care of the rest.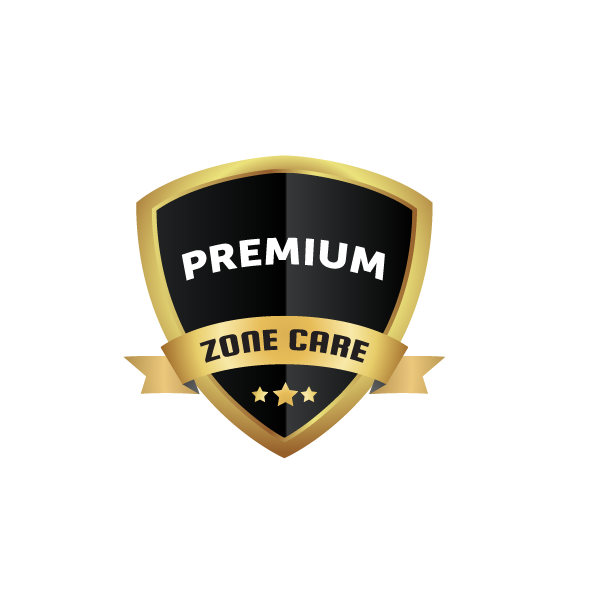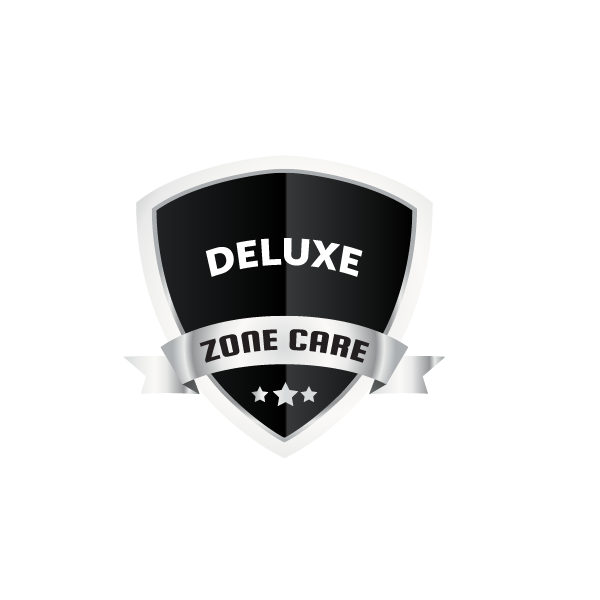 Our Premium Zone Care package is the pinnacle of protection, giving you the highest level of confidence in your home's safety against extreme weather conditions. With this top-tier option, you'll enjoy the following benefits:
Four Years of Gutter Cleanings: We understand the importance of regular maintenance in ensuring your gutters function properly. That's why we'll come to your home once a year for four years to clean out your gutters, free of charge. You can rest easy knowing your roof and home structure are well-protected.

Two Decades of Flawless Workmanship: We stand behind the quality of our work, guaranteeing that your home's workmanship will be flawless for twenty years. It's a commitment to excellence that reflects our confidence in what we do.

Three Decades of Material Safety: Materials matter, and with our Premium Zone Care, we cover them for a remarkable thirty years. You can trust in the long-lasting safety and integrity of your gutters.
Choose Premium Zone Care for unmatched assurance in your home's safety and durability. It's a comprehensive package designed for those who seek the absolute best in protection and care for their home's gutter system.
Deluxe Zone Care is more than just protection; it's a seamless blend of beauty, safety, and convenience tailored to your needs. Here's what this robust package includes:
30 Years of Material Coverage: From the day we finish your project, we cover all your material costs for an impressive 30 years. It's a long-term commitment to quality that adds an extra layer of security to your home.

5 Years of Workmanship Protection: We believe in the work we do, and with this package, we extend an additional five years of workmanship protection. If a problem arises within this time, we'll cover the repair costs, providing peace of mind for years to come.

Two Complimentary Cleanings: Your home's appearance matters, and with Deluxe Zone Care, you'll receive two cleanings that you can use whenever you want. Whether your gutters need a touch-up or a thorough cleaning, we'll leave them in pristine, brand-new condition at no additional cost.
Choose Deluxe Zone Care for a harmonious blend of aesthetics and safety, knowing that your investment in your home is protected and well-maintained.
Basic Zone Care is designed to offer essential protection and quality assurance for those seeking dependable coverage without unnecessary frills. This package focuses on providing security and peace of mind with a strong foundation of guarantees:
30-Year Warranty on Materials: We stand by the materials we use, and with Basic Zone Care, we back that up with a substantial 30-year warranty. Quality matters, and this guarantee ensures you receive nothing but the best.

10 Years of Workmanship Coverage: Our workmanship is at the heart of what we do, and we cover it for a solid decade. This commitment to quality offers confidence that we'll be there should any issues arise.

Complete Investment Protection: Accidents happen, and with Basic Zone Care, you won't have to worry about unforeseen costs. We protect your investment during this period, meaning you can rest easy knowing your home is covered.
Basic Zone Care offers robust protection tailored to those who want the essentials handled expertly. It's a package built on trust and reliability, aimed at keeping you dry and secure without breaking the bank.
When it comes to gutters, our commitment to quality, functionality, and aesthetic appeal knows no bounds. Our customers have trusted us with their homes, allowing us to transform and protect their living spaces with carefully designed and maintained gutter systems. But don't just take our word for it; the real testament to our excellence lies in the voices of satisfied homeowners. Read on to explore authentic testimonials from those who've experienced our dedicated gutter care firsthand, and discover how we've channeled their dreams into reality, one home at a time.
We contracted The Exterior Zone for our home's siding installation and gutter repair. Dillion and John were professional, kind, and did a beautiful job! It's easy to recognize the effort they put in to ensure clients are happy and satisfied. They go above and beyond to make the experience and result positive! I would absolutely recommend them to anyone!
Dillion and his team completed work on my home. The experience was amazing, so we contracted them to do the roof and rear gutters on my Mom's house next door. The attention to small details ensured a smooth process. Details you'd overlook like inspections, quotes, and direct contact with insurance companies make the experience from The Exterior Zone premium. The repair and follow-up were fantastic. Dillion and his team are the best in the business!
The Exterior Zone has very meticulous work procedures and amazing customer service. I recommend it to everyone looking for roof, siding, and gutter work.
Gutters are more than mere channels for rainwater; they're a vital safeguard for your home's integrity, aesthetics, and your peace of mind. At our company, we specialize in providing gutter solutions that blend functionality with elegance. Whether it's a fresh installation, regular maintenance, or a complete revamp, our team is here to make your home investment secure and visually appealing. Ready to redefine your home with tailored gutter care?
Simply fill out the form below, and your dedicated account manager will reach out to understand your specific needs. Let us help you channel your vision into a reality that lasts.